This is a step-by-step Recipe for making at home crisp, tasty and delicious Indian Style Vegetable Sausages. These sausages prepared using assorted vegetables and specially prepared white sauce make a handy dish for the main course or a starters snack for any kind of party, including kitty and cocktail parties.
The Marathi language version of these Vegetarian Sausages can be seen here- Tasty Veg Sausages
Preparation Time: 45 Minutes
Serves: 15 Nos
Ingredients
12 French Beans (Shrawan Ghewda)
2 Big Size Potatoes
1 Cup Green Beans
1 Big Size Carrot
1 Tablespoon Ginger-Garlic Paste
4 Green Chilies (chopped)
Salt as per taste
1 Egg
1 Teaspoon Lemon Juice
¼ Cup Coriander (chopped)
White Sauce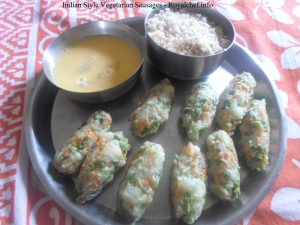 For making the White Sauce
1 Tablespoon Butter
2 Tablespoon Refined Flour or Wheat Flour
1 ¼ Cup Milk
Salt as per taste
¼ Teaspoon Black Pepper Powder
Preparation
For the White Sauce: Heat the Butter in Kadai and add the Refined Flour (Maida) slowly and stir it continuously for two minutes on a slow flame. Then add the Milk and stir it continuously till it become thick and then add the Salt and Black Pepper and mix it well.
Boil the Potatoes, peal and shred them, chop the French Beans, slightly grind the Green Peas and shred the Carrot. Chop the Green Chilies, grind the Ginger-Garlic Paste, beat the Egg and prepare the Bread crumbs.
Slightly cook the French Beans, Green Peas, and then mix the shredded Potatoes and Carrot, Ginger-Garlic Paste, Green chilies, White Sauce, Salt, Lemon Juice and chopped Coriander.
Prepare 12 Equal balls from the mixture and shape them with your hands like sausages.
In a bowl pour the beaten Egg and in another bowl take the Bread Crumbs. First dip the Sausages into the Beaten Egg and then roll them in the Bread Crumb.
Heat the Oil in a Kadai and deep fry the Sausages till the color changes into light brown.
Serve the Vegetable Sausages hot with Tomato Sauce or Chutney.