This is a simple and easy to follow step-by-step Recipe for making at home crisp and tasty Egg Cheese Pakora. This delicious Pakora can easily be served as a starters snack for any kind of party. Including cocktail parties. It can also be serves as an add-on to the main course meals.
The Marathi language version of this Pakoda recipe preparation method can be seen here- Cheese Anda Pakoda
Preparation Time: 30 Minutes
Serves: 2 Persons
Ingredients
2 Eggs
1 Cup Cheese (shredded)
2 Tablespoon Coriander (chopped)
A pinch Soda by-carb
½ Cup Besan (Gram flour)
½ Teaspoon Red Chili Powder
¼ Teaspoon Turmeric Powder
Salt as per taste
Oil or Vanaspati Ghee for frying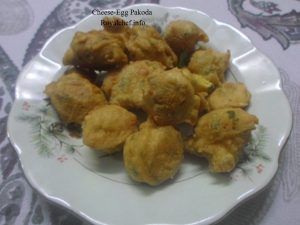 Preparation
Beat the Eggs nicely.
Shred the Cheese and chop the Coriander.
Mix the Beaten Eggs, Cheese, Coriander, Besan, Red Chili Powder, Turmeric Powder, Salt and Soda by-carb and prepare the Pakora Mixture.
Heat the Oil or Ghee and in a Kadai and drop the mixture into the hot Oil in round Pakoda like shapes.
Deep fry the Pakoda.
Serve hot with Chutney or Tomato Sauce.