This is a simple to understand step-by-step Recipe for making at home tasty and authentic Maharashtrian Konkani Style Prawn Paratha or Kolambi Paratha as this Paratha variety is called in Marathi.
The Marathi language version of this Paratha recipe can be seen here- Kolambi Cha Paratha
Preparation Time: 45 Minutes
Serves: 6 Parathas
Ingredients
For the Paratha
2 Cups Refined Flour (Maida)
1 Cup Wheat Flour
Salt as per taste
For the Stuffing
2 Cups Prawns (shelled)
1 Big size Potato (boiled and pealed)
1 Tablespoon Oil
1 Onion big size (minced)
½ Tablespoon Ginger (shredded)
¼ Teaspoon Turmeric Powder
3 Green Chilies (minced)
¼ Cup Coriander Leaves (chopped)
1 Teaspoon Garam Masala
Salt as per taste
Oil for frying the Paratha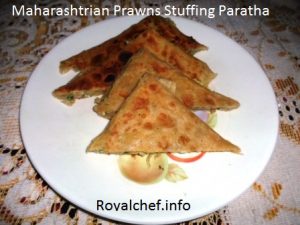 Preparation
For the Covering: mix the Refined Flour, Wheat Flour, Salt, and Water, prepare a thick Dough, and keep it aside.
Shred the Onion, boil and peal and shred the Potato, chop the Green Chilies, shred the Ginger. Shell the prawns, cook them and then mince them in a mixer.
For the Stuffing: heat the Oil in a kadai, add the Onion, Ginger and Chili, and cook until soft. Then add the minced Prawns along with all the Spices, Salt and fry well.
Then add the shredded boiled Potato and mix it well and divide the mixture into 6 equal portions.
Prepare 12 equal balls from the Dough. Roll two balls into Puri size shapes and insert the one portion of stuffing over a Puri and cover it with another Puri, press equally and roll like a Paratha.
Heat the non-stick tawa and roast the Paratha from the both sides by using Oil
Serve the Paratha hot with Chutney or Sauce.