This is a simple to follow step-by-step Recipe for preparing at home soft, tasty and delicious Ice Cream Parlor Style Mango Malai Kulfi. This Mango Kulfi recipe can be prepared using fresh mangoes or tinned mango pulp when mangoes are not in season.
The combination of mangoes, Khoya, fresh cream, milk and just a few other essential ingredients is sufficient to prepare this delicious Mango Malai Kulfi.
The Marathi language version of the preparation method of this Kulfi recipe is published here- Tasty Mango Malai Kulfi
Milk boiling Time: 10 Minutes
Kulfi preparation Time: 10 Minutes
Freezing Time: 4 hours
Serving: 4-6 Persons
Ingredients
1 Cup Dried Milk (khoya)
2 Cups Milk
1 Cup Milk Powder
1 Cup Fresh Cream
1 Cup Mango Pulp (Pulp of 2 Alphanso Mangoes)
1 Cup Sugar
2 Pinches of Yellow Color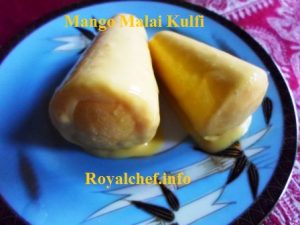 Preparation
Mix the Sugar, Milk, boil it for 10-15 minutes on a slow flame, and then keep it aside for cooling,
Wash the Mangoes, remove the pulp, and then blend it using a blender.
Mix the Milk, Khoya, Milk Powder, Fresh Cream, Mango Pulp, Yellow color and blend it for 2 minutes in the blender.
Pour the mixture into an aluminum container or readymade Kulfi Moulds and then keep it into the deep freezer for 4-5 hours.