This is a simple Recipe for preparing at home sweet, tasty and delicious Pineapple Rice or Ananas Pulao as this rice dish is called in Hindi. Fresh Pineapple can be replaced by Tinned Pineapple when Pineapples are not in season.
The Marathi language version of the same rice dish can be seen here- Pineapple Rice
Preparation Time: 45 Minutes
Serves: 4 Persons
Ingredients
2 Cups Basmati Rice
3 Cups Sugar
2 Tablespoon Ghee
1 Medium Size Pineapple or Tinned Pineapple
2 Drops Pineapple Essence
4 Drops Yellow Color
For the Tadka
2 Tablespoon Ghee
2 Medium Size Cinnamon Pieces
2 Bay Leaves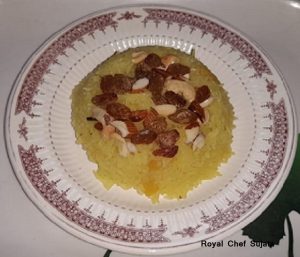 Preparation
Wash the Rice and keep it aside for 10-15 minutes. Clean the Pineapple and cut it into small pieces.
Heat the Ghee in a Kadai and add the Cinnamon, Bay leaves, washed Rice and sauté for 2-3 minutes and add 4 cups warm water, mix it well and cook the Rice and keep it aside for cooling.
Then add the Yellow Color, Pineapple Essence, and Sugar and mix it well.
In a non-stick vessel arrange the Rice, Pineapple pieces, pour the Ghee and cover the vessel with a plate. Cook the Rice for 5-7 minutes on a slow flame. Then keep the Rice aside for 15-20 minutes and then serve.
Tip: if you are using fresh Pineapple instead of Tinned Pineapple, then you can clean the Pineapple, cut into small pieces, add 2 tablespoon Sugar, and cook for 2-3 minutes on a slow flame.