This is a Recipe for preparing at home sweet, tasty and delicious Khoya Samosa, Modak, Karnaji or any other shape using this simple to follow step-by-step recipe.
The Khoya Samosa-Karanji can also be served as a snack or prepared on festive occasions like the Diwali festival and religious ceremonies like Ganpati Chaturthi,
The Marathi language version of this Khoya Snack preparation method can be seen here- Shahi Khavyachi Karanji
Khoya Samosa or Karnaji Preparation Time: 60 Minutes
Serves: 20 Numbers
Ingredients
For the Covering
2 Cup Refined Flour (Maida)
1 Cup Wheat Flour [Gehun Ka Atta]
2 Tablespoon Ghee
Salt as per taste
For the Stuffing
1 Cup Khoya (Whole Dried Milk)
2 Tablespoon Charoli [Chironji]
8 Almonds [Badam]
10 Cashew nuts [Kaju]
5 Pistachios [Pista]
15 Raisins [Kismis]
5 Jardalu – Khubani [Apricot]
1 Teaspoon Cardamom Powder [Eaichi Powder]
¼ Teaspoon Nutmeg Powder [Jaiphal Powder]
½ Cup Walnut [Akhrot]
¼ Cup Sugar (grounded)
For the Sugar Syrup
2 Cup Sugar
3 Drops Rose Essence
Ghee for deep-frying the Samosa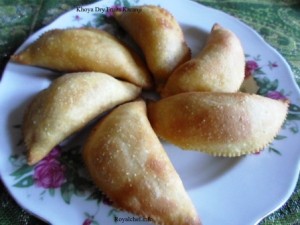 Preparation
For the Covering:
Mix the Refined Flour, Wheat Flour, Salt and hot Ghee nicely. And add some Water and prepare a Dough. After 30 minutes grind the Dough slightly and then prepare 20 equal sized balls.
For the Stuffing:
Heat one tablespoon Ghee in a kadai and slightly deep fry the Cashew nut, Almonds and then cut them in to small pieces. Cut the Walnut and Jardalu into small pieces.
Slightly roast the Whole Dried Milk, mix the Cashew nuts, Almonds, Walnut, Jardalu, Raisins, and Cardamom Powder and grounded Sugar with the Whole Dried Milk, and prepare a mixture.
For the Sugar Syrup:
In a vessel add the Sugar, half cup of Water and prepare a thick Sugar Syrup, then add the Rose Essence and mix it well.
For the Khoya Samosa:
Roll a Dough ball into a medium sized Puri shape, cut the Puri into two portions, and fold one portion into a triangular shape.
Insert a tablespoon of the Khoya mixture into the triangular shape and close it nicely with your hand. Prepare all the Karanji -Samosas and keep them aside.
Heat the Ghee in a Kadai and deep-fry the Samosas until its color changes into light brown.
Garnish with the Sugar Syrup and serve after 10-15 minutes.