This is a simple to understand Recipe for making at home tasty and delicious Carrot Radish Paratha or Gajar Mooli Ka Paratha as this Paratha is called in the Hindi language.
To make this Paratha a stuffing of Shredded Carrots and Radish as the main ingredients is used. The Paratha is filling, healthy, nutritious, and especially suitable for growing children.
Preparation Time: 30 Minutes
Serves: 6 Parathas
Ingredients:
For the Stuffing
2 Medium size Radish [Mooli or Daikon]
2 Medium size Carrot [Gajar]
2 Medium size Potatoes
1" Ginger Piece (shredded)
3 Green Chilies (chopped)
¼ Cup Coriander (chopped)
1 Tablespoon Oil
1 Teaspoon Cumin Seeds
Salt as per taste
For the Covering
2 Cups Wheat Flour [Gehun Ka Atta]
1 Tablespoon Oil
Salt as per taste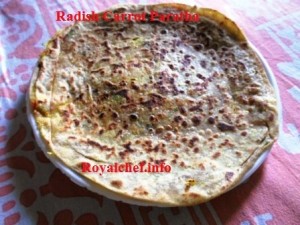 Preparation:
Mix the Wheat Flour, Oil, Salt, and some Water to prepare a Dough.
Wash and shred the Carrot and Radish and keep them aside.
Boil the Potatoes and then peal and shred them.
Heat the Oil in a Kadai and add the Cumin Seeds, Green Chilies, Ginger, and Salt, shredded Carrot, Radish and mix it well.
Then cover the kadai with a plate and cook the Paratha mixture for two minutes on a slow flame.
Remove the plate and add the Coriander.
Divide the mixture into six equal portion.
Prepare twelve equal sized balls from the Dough.
Roll two balls of the Dough into Puri sized shapes and insert one portion of the Radish-Carrot mixture over a Puri and cover with it with another Puri and then roll it like a Paratha.
Heat the Tawa and roast the Paratha from both sides by using Oil or Ghee.
Serve the Paratha with Tomato Sauce.