This is a Recipe for preparing at home crisp and tasty vegetarian Tomato Omelette. This Tomato Omelette preparation method is given in the typical Indian Style of Cooking.
The Tomato Omelette makes a very useful dish, which can be served for breakfast, along with the main course and also in packed meals and Tiffin boxes.
The Marathi language version of this Omelette recipe can be seen here – Tomato Omelette
Preparation Time: 25 Minutes
Serves: 4 Tomato Omelettes
Ingredients
2 Cups Gram Flour Atta (Besan OR Gram Flour]
2 Tablespoon Rice Flour
3 Big size Tomato
5 Green Chilies
¼ Teaspoon Turmeric Powder
½ Teaspoon Red Chili Powder
¼ Teaspoon Cumin Seeds
¼ Cup Coriander Leaves (chopped)
Salt as per taste
Oil for frying the Omelette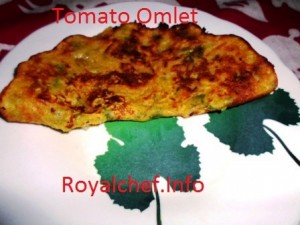 Preparation:
Chop the Tomatoes and the Green Chilies and then grind them slightly.
Chop the Coriander.
Take the Besan, grounded Tomato, Coriander Leaves, Cumin Seeds, Turmeric Powder, Red Chili Powder, and Salt and mix it well.
Add two chopped Green Chilies to the above mixture if you want it to be spicier.
Heat a non-stick frying- pan and apply a teaspoon Oil over the pan then pour ¼ of the mixture over the pan then add the Oil from the sides. [Four Tomato Omelettes can be prepared using the quantity given in this article].
Fry the Tomato Omelette from the both side until it become crispy.
Serve the Tomato Omelette with Tomato Sauce and Bread slices.