This is a Recipe for preparing at home crisp and spicy Maharashtrian Style Fried Chicken using freshly grounded Garam Masala. This Chicken dish can be served as a starters item or as a part of the main course for any kind of party.
The Marathi language version of this Fried Chicken dish can be seen here- Khamang Fried Chicken
Preparation Time: 20 Minutes
Mari nation Time: 30 Minutes
Serves: 4 Persons
Ingredients
16 Medium Size Boneless Chicken Pieces
2 Tablespoon Ginger-Garlic Paste
2 Teaspoon Kashmiri Red Chili Powder
1 Teaspoon Turmeric Powder
1 Teaspoon Garam Masala
1 Teaspoon Black Pepper Powder
¼ Cup Yogurt (curd)
10-15 Curry Leaves (chopped)
Salt as per taste
For the Coating
2 Tablespoon Corn Flour
2 Tablespoon Rice Flour/ Refined Flour
½ Cup Oil for frying the Chicken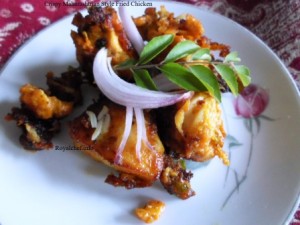 For the Seasoning
Oil
1 Teaspoon Ginger-Garlic Paste
1 Teaspoon Kashmiri Red Chili Powder
1 Tablespoon Yogurt (curd)
7-8 Curry Leaves (chopped0
¼ Teaspoon Black Pepper Powder
Sugar and Salt as per taste
Preparation
For the Marinate
Mix the Chicken Pieces, Kashmiri Chili Powder, Turmeric Powder, Garam Masala, Yogurt, Ginger-Garlic Paste, Black Pepper Powder, and Salt, chopped Curry Leaves and keeps it in the Refrigerator for 30 minutes.
Mix the Corn Flour and Refined Flour or Rice Flour and then mix into the Chicken.
Heat the Oil in a Kadai and deep-fry the Chicken pieces on a slow flame until they become crispy. Then keep the fried Chicken Pieces over a Tissue Paper to drain the excess Oil.
Then strain the Oil and heat 1 tablespoon Oil in a Kadai and add one teaspoon Ginger-Garlic Paste, chopped Curry Leaves, Kashmiri Chili Powder, Turmeric Powder, Yogurt, Salt, Sugar and sauté for 2-3 minutes. then add the Fried Chicken Pieces and fry for 2-3 minutes.
Garnish with Onion slices, Coriander and Lemon.