This is a simple to understand step-by-step Recipe for preparing at home sweet, tasty and delicious Strawberry flavored Puran Poli. In this recipe, I have used fresh Strawberries to make the Puran mixture; it can always be replaced by canned Strawberry pulp when Strawberries are not in season.
The Puran Poli is an traditional Maharashtrian sweet Roti/Paratha, which is normally prepared on festive and religious occasions. One in a while you can experiment preparing the Strawberry Puran Poli instead of the usual PuranPolis.
The Marathi language version of this Puran Poli Recipe preparation method can be seen here – Strawberry Puran Poli
Strawberry Puran Poli Preparation Time 45 Minutes
Serves: 15 Strawberry Puran Polis
Ingredients
For the Covering
1 ½ Cup Wheat Flour [Gehun Ka Atta]
1 ½ Cup Refined Flour [Maida]
1 Tablespoon Oil
Salt as per taste
For the Stuffing
2 Cups Semolina (Suji/Rawa)
10-12 Fresh Strawberries (chopped)
2 Tablespoon Ghee
1 ½ Cup Sugar
2 Cup Milk
2 Cup Water
1 Teaspoon Cardamom Powder
Ghee for Puran Poli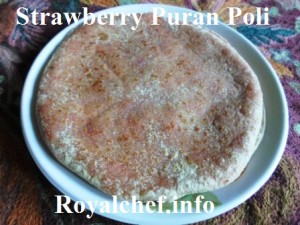 Preparation:
For the Covering: Mix the Refined Flour, Wheat Flour, Salt, hot Oil and add the Water mix it well and prepare a thick Dough. Keep the Dough aside for 15-20 minutes. Then prepare equal 15 balls.
For the stuffing: In a kadai add the chopped Strawberries and sauté for a minute. Then add 2 tablespoon Water and cook them for a minutes.
Ina kadai add Ghee and Semolina and sauté the Semolina on a slow flame until its color changes into light brown.
Heat the Water and Milk and then add the roasted Semolina and cook for five minutes on a slow flame. Add the Sugar, Cardamom Powder and cooked Strawberries, mix it well and cook for five minutes on a slow flame. After the mixture cools down, divide it into 15 equal portions.
For the Puran Poli: Roll the Dough Balls into Puri sized shapes and insert one portion of the Strawberry Puran mixture in to it and close the Puri and roll it to make the Strawberry Puran Poli.
Heat the non-stick Tawa and roast the Puran Poli from the both side until it become crispy.
Apply Ghee on the Puran Poli while serving.