This is an easy to understand step-by-step Recipe for preparing at home sweet, tasty and delicious Strawberry Halwa or Sheera. This Strawberry Sheera can be made using the pulp of fresh Strawberries during the Strawberry season or canned Strawberry pulp during the rest of the year.
The Strawberry Sheera is a healthy and nutritious sweet dish, which can be served for breakfast or along with the main course meals because of the rich Vitamin "C" content found in Strawberries.
The Marathi language version of this Sheera preparation method is published here – Strawberry Halwa/Sheera
Strawberry Halwa/SheeraPreparation Time: 25 Minutes
Serves: 4 Persons
Ingredients
1 Cup Semolina (Suji/Rawa)
¼ Cup Strawberry Pulp
¾ Cup Sugar
2 Cup Milk
2 Tablespoon Ghee
1 Teaspoon Cardamom Powder
Dry fruits for garnishing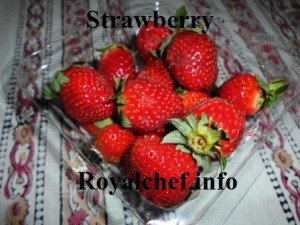 Preparation
In a Kadai add a tablespoon Ghee, Semolina and fry the Semolina on a slow flame until its color changes into light brown, after which, remove the semolina from the kadai and keep it aside.
Add the Milk in the kadai and boil the it for two minutes and then add the Semolina and mix it well. Then cook the Semolina 2-3 minutes on a slow flame and then add the Sugar, Cardamom Powder, and Strawberry Pulp, mix it well and again let it cook for 2-3 minutes on a slow flame.
Garnish with the Dry Fruits and serve hot.