This is a simple to understand step-by-step Recipe for preparing at home traditional Maharashtrian Style Dry Coconut Karanji. The Dry Coconut or Sukya Naralachi Karanji, which is an authentic Diwali Faral Sweet Dish during the annual Diwali Festival in Maharashtra.
The Marathi language version of this Karanji recipe can be seen – Sukya Khobryachi Karanji 
Dry Coconut Karanji Preparation Time: 60 Minutes
Serves: 20 Karanji
Ingredients
For the Covering
1 Cup Refined Flour (Maida)
1 Cup Suji (Rawa)
¼ Cup Oil (hot)
Salt as per taste
For the Filling
Two Cups Dry Coconut (shredded)
1 Cup Suji (Rawa)
2 Cups Sugar (Powdered)
One Tablespoon Poppy Seeds (Khas-khas)
¼ Cup Dry Fruits (Cashew nuts, Almonds crushed and Raisins)
1 Teaspoon Cardamom Powder
¼ Teaspoon Nutmeg Powder [Jaiphal Powder]
Oil or Vanaspati Ghee for frying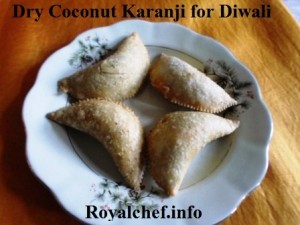 Preparation
For the Covering
Mix the Refined Flour, Suji, Salt, hot Oil and add enough Water to prepare thick Dough and keep it aside. After 2 hours, prepare 20 equal balls from the Dough.
For the Filling:
Shred the Dry Coconut and roast it on a slow flame until its color changes into light brown. Then crush it with your hands and keep it aside.
In a kadai, add a tablespoon Ghee and Suji and roast on a slow flame until its color changes into light brown, and keep it aside for cooling.
Roast the Poppy Seeds and Powder them.
Mix the Coconut, Suji, powder Sugar, Dry Fruits, Cardamom Powder, Nutmeg Powder, Poppy Seeds Powder to prepare a mixture.
While preparing the Karanji roll one ball like a Puri sized shape and insert a tablespoon of the mixture over it and then apply 2-3 drops of milk on the sides of Puri and then fold the Puri and press nicely from the sides and give it a Karanji like shape with your hands.
Heat the Ghee in a Kadai and deep-fry the Karanji until its color changes into light brown.
Keep the fried Karanjis on a newspaper to drain the excess oil.
Finally store them in a tight container.
Tip: while preparing Karanji arrange all Karanji s over a slightly weight cloth.