This is a simple to follow step-by-step Recipe for preparing at home crispy and delicious authentic Gujarati Style Methi Muthiya/Muthia. Gujarati Methi Muthia is a traditional dish from the Indian state of Gujarat, which is prepared using Methi or Fenugreek leaves and Bhajani Atta as the main ingredients.
The Methi Muthia is normally served along with the main course meals as a side dish or even as a standalone snack along with tomato sauce or Chutney.
The Marathi language version of this recipe can be seen here – Gujarati Methi Muthia
Methi Muthiya Preparation Time: 25 Minutes
Serves: 20 Muthiya Medium size
Ingredients
½ Cup Green Methi (chopped)
1 Cup Khamang Bhajani Atta – to prepare at home see the preparation method here- Bhajani Atta
1 Tablespoon Ginger-Garlic Paste
3-4 Green Chilies (chopped)
1 Teaspoon Coriander-Cumin Seeds Powder
¼ Teaspoon Asafetida
¼ Teaspoon Turmeric Powder
1 Teaspoon Red Chili Powder
Salt as per taste
1 Tablespoon Oil (hot)
¼ Teaspoon Fenugreek Seeds (Methi Dane)
Oil for deep-frying the Methi Muthiya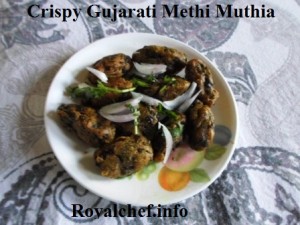 Preparation
Wash and chop the Methi Leaves and then add the Bhajani Atta, Ginger-Garlic Paste, Green Chilies, Coriander-Cumin Seeds Powder, Asafetida, Turmeric Powder, Red Chili Powder and Salt and mix it well.
Heat the Oil in a Kadai and add the Fenugreek Seeds and pour the Oil over the Methi mixture then add some Water and prepare a Dough.
Prepare 20 equal oval size balls from the Dough and keep the balls over a strainer.
Heat the Water in a Vessel and keep the strainer over the Vessel. Cover the strainer with a stainless steel plate and steam the Methi Muthiya Dough Balls for 8-10 minutes on a medium flame. Then remove the Methi Muthiya Dough Balls from the strainer and keep them aside.
Heat the Oil in a Kadai and deep-fry the Muthiya Doug Balls until its color changes into crispy light brown.
Serve hot with Tomato Sauce.