This is a simple to follow step-by-step Recipe for preparing tasty and delicious up market restaurant style Spicy Vegetable Biryani.
This Vegetable Biryani is a most suitable main course rice dish for any kind of party.
The Marathi language version of this Biryani preparation method is given here- Khamang Vegetable Biryani
Vegetable Biryani Preparation Time: 60 Minutes
Serves 2 Persons
Ingredients:
1 Cup Basmati Rice
1 Tablespoon Ghee/Oil
2 Green Cardamoms
2 Cinnamon small Pieces
2 Cloves
2 Bay Leaves
5-6 Black Pepper Corns
Salt as per taste
2 Cup Water
½ Cup Milk and 5-6 Saffron sticks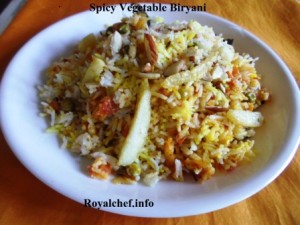 Vegetables for the Biryani:
1 Tablespoon Oil/Ghee 1
Medium size Onion (chopped)
3 Medium size Tomato
6-7 Garlic Petals
2-3 Green Chilies
¼ Cup Green Peas
¼ Cup Carrot
½ Cup Cauliflower
1 Teaspoon Cumin Seeds
½ Cup Water
Salt as per taste
1 Teaspoon Red Chili Powder
½ Teaspoon Black Pepper Powder
¼ Teaspoon Turmeric Powder
½ Teaspoon Garam Masala Powder
Preparation
Wash the Rice and keep it aside for 30 minutes.
Chop the Onion, Tomato, all the Vegetables; soak the Saffron into the Milk.
Heat the Oil/Ghee in a Vessel and add the Green Cardamom, Cloves, Bay Leaves, Pepper Corn, Cumin Seeds, salt and washed Rice then add hot water, mix it well and cook the rice 7-8 minutes on a slow flame. Then add Saffron Milk, mix it well and cover the Vessel for 5 minutes.
Heat the Oil/Ghee in a Kadai and add the Onion, Garlic and sauté for 2 minutes. Add the Green Chilies, Red Chili Powder, Black Pepper Powder, Turmeric Powder, and Garam Masala, chopped Vegetables, ½-Cup water and then cook for 5 minutes on a slow flame.
While giving layers divide the Rice into 3 portions and divide the cooked Vegetables into 2 portions.
In a Vessel arrange one layer each of Rice and Vegetables one by one and then cover the Vessel with a plate and keep it on a slow flame for 5 minutes.
Serve the Vegetable Biryani with Raita.