This is a simple to follow step-by-step Recipe for making at home crisp and tasty Palak Pakode. These Pakode, which are prepared using fresh Spinach leaves are not only good to taste but look attractive and make a good snack suitable for any kind of party or even as a side-dish with the main course.
The Marathi language version of the Palak Bhaji preparation method is published here – Crispy Palak Ke Pakode
Palak Pakode Preparation Time: 40 Minutes
Serves: 4 Persons
Ingredients
12 Spinach Leaves –Medium Sized (Palak Patta)
For the Batter
2 Cups Gram Flour (Besan)
1 Teaspoon Red Chili Powder
¼ Teaspoon Turmeric Powder
¼ Teaspoon Parsley Seeds (roughly crushed)
1 Teaspoon Sesame Seeds
2 Tablespoon Oil (hot)
A Pinch Soda bi-carb
Salt as per taste
Oil for frying the Spinach Pakore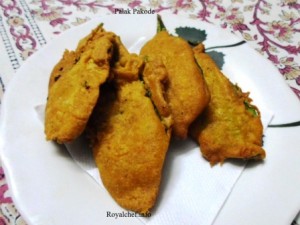 Preparation
Wash the Spinach Leaves and keep them aside.
In a bowl mix the Besan, Red Chili Powder, Turmeric Powder, roughly crushed Parsley Seeds, Sesame Seeds, hot Oil, Soda bi-carb, Salt and mix it well then add some water and prepare a thin Batter. The Batter should be of a drooping consistency.
Heat the Oil in a Kadai, then dip the Spinach leaves in the Batter, and slowly drop them in to the hot Oil. Deep-fry the Spinach Bhaji until they become crispy.
Serve hot with Tomato Sauce or Chutney.