This is a Recipe for preparing at home delicious and spicy and Quick or Jhatpat Masaledar Potato Rassa in the typical authentic Maharashtrian Style of Cooking. This Masaledar or Khamang Batatyacha Rassa can be served during the course of any meal, including party meals.
This Spicy Potato Gravy is prepared using a fresh-grounded Garam Masala to give it the added spicy taste and flavor.
The Marathi language version of this Potato Curry recipe is seen here – Khamang Batata Rassa
Quick Masalaledar Potato Rassa Preparation time: 30 minutes
Serves: 4 Persons
Ingredients
2 Big Potatoes
1 Medium size Onion
1 Small Tomato
2 Tablespoon Coriander
Salt as per taste
For the Masala
½ Tablespoon Oil
1 Medium size Onion
5-6 Garlic Petals
½" Ginger Piece
1 Cup Coconut (shredded)
1 Teaspoon Red Chili Powder
1 Teaspoon Garam Masala
For the Tadka
½ Tablespoon Oil
1 Teaspoon Mustard Seeds
1 Teaspoon Cumin Seeds
¼ Teaspoon Asafoetida
¼ Teaspoon Turmeric Powder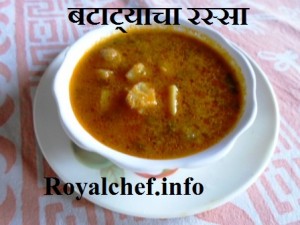 Preparation
For preparing the Masala: Heat the Oil in a Kadai and add the Onion, Ginger-Garlic and sauté for a minute. Add shredded Coconut and sauté for 2-3 minutes on a slow flame. Then add Red Chili Powder, Garam Masala, mix it well and grind into a fine paste.
Peel the Potatoes and cut into medium cube size shapes. Chop the Onion, Tomato and Coriander and keep aside.
For the Tadka: Heat the Oil in a kadai and add the Mustard Seeds, Cumin Seeds, Asafoetida, Chopped Onion, Tomato, Potato cubes , Turmeric Powder and sauté for 2-3 minutes on a slow flame. Then cover the kadai with a stainless steel plate and add some Water over the plate. Cook the Potatoes until they are cooked.
Add grounded the Masala, Salt, Coriander, two cups Water, mix it well, and cook for 5- minutes on a slow flame.
Serve the Spicy Potato Rassa with hot Rice, Chapatti or Bhakri.