This is a simple and easy to follow Recipe for preparing at home authentic Maharashtrian Style Kobichi Vadi (Cabbage Vadi). Kobichi Vadi is a traditional Maharashtrian dish using shredded cabbage and gram flour as the main ingredients. The Cabbage Fritter as it is called as in the English language is crispy and makes a great add-on to the main course.
Kobichi Vadi Preparation Time : 40 minutes
Serving : 4 persons
Ingredients
2 Cups Cabbage (shredded)
1 Cup Gram Flour (Besan)
1 Teaspoon Aniseeds (crushed)
1 ¼ Teaspoon Red Chili Powder (Lal Mirchi Powder)
¼ Teaspoon Turmeric Powder (Haldi)
¼ Teaspoon Asafoetida (Hing)
1 Teaspoon Oil
Salt as per taste
Oil for frying the Cabbage Vadi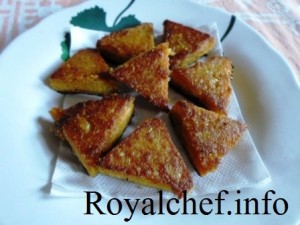 Preparation
First, shred and wash the Kobi and keep it in a strainer for five minutes.
Then remove the shredded Cabbage from the strainer and keep it in a plate.
Add the Besan, Red Chili Powder, Turmeric Powder, Asafoetida, Aniseeds, Salt, and Oil and mix it well.
Apply the Oil over the plate and pat the Cabbage mixture with your hand over the plate, then keep the plate inside a pressure cooker and give two whistles.
Cut the Kobi Vadis into medium sized shapes and deep fry until color changes into light brown.
The Marathi language version of the Kobichi Vadi is published in this – Article