This is a Recipe for preparing at home Konkani Style Spicy Chicken Gravy or Khamang Konkani Kombdi Cha Rassa. The preparation method for making this traditional Konkani Chicken Gravy makes the use of specially prepared fresh Green Masala and fresh Red Masala to add the authentic Konkani flavor to this Chicken Curry.
The recipe given by is in a simple step-by-step manner so as to make the preparation as easy as possible.
The Marathi language version of the same Chicken Curry recipe can be seen here – Konkani Chicken Rassa
Preparation Time- 45 Minutes
Serves- 4 Persons
Ingredients
500 Grams Chicken Pieces
1 Tablespoon Oil
1 Medium size Onion
1 Medium size Tomato
½ Teaspoon Turmeric Powder
Salt as per taste
For the Green Masala
½ Cup Coriander
8-10 Garlic Petals
1" Ginger
Two Green Chilies
For the Red Masala
1 Tablespoon Oil
2 Tablespoon Onion (chopped)
1 Cup Coconut (grated)
1 Teaspoon Red Chili Powder
Four Cloves
7-8 Pepper Corn
1" Cinnamon Piece (Dalchini)
One Cardamom (Brown)
Three Green Cardamoms
1 Teaspoon Cumin Seeds (Jeera)
1 Teaspoon Caraway Seeds
1 Teaspoon Coriander Seeds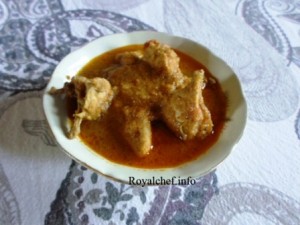 Preparation:
Clean and wash Chicken pieces.
For the Green Masala: Grind to a paste the Coriander Leaves, Green Chilies, Ginger and Garlic.
For the Red Masala: heat the Oil in a Kadai, add the Onion and sauté for a minute, and then add the grated Coconut and fry for 2-3 minutes on a slow flame. Then add the Chili Powder, Cloves, Pepper Corn, Cinnamon, Cardamom (Brown), Cardamom (Green), Cumin Seeds, Caraway Seeds, Coriander Seeds and sauté for 2-3 minutes. Then grind into a fine paste.
In a Kadai heat the Oil, add the Onion, Tomato and fry for 2-3 minutes, and then add the Chicken pieces, Turmeric Powder and fry for 3-4 minutes on a slow flame.
Add the Green Masala and fry for five minutes on a slow flame. Then add 2 cups of water, Salt as per taste and the Red Masala and cook for 15-20 minutes on a slow flame.
Serve hot with Rice, Paratha or Chapatti.