This is a Recipe for preparing tasty and delicious Chicken Gold Coins, an excellent non-veg starters item for any kind of party, including cocktail and kitty parties.
This recipe given by me makes it easy to prepare this upmarket Restaurant Style exquisite chicken starter item at home to surprise your guests and family members.
Chicken Gold Coins Preparation Time: 45 Minutes
Serves: 4 Persons
Ingredients
1 Cup Boneless Chicken (boiled and shredded)
One Sandwich Bread (large)
Three Tablespoon finely chopped Capsicums
1/ 2 Cup Carrot strips (finely sliced)
A big pinch Ajinomoto
1 ½ Teaspoon Soya Sauce
Chili Sauce according to taste
2 Eggs
2 Tablespoon Flour
Salt as per taste
Vanaspati Ghee for deep-frying the Chicken Gold Coins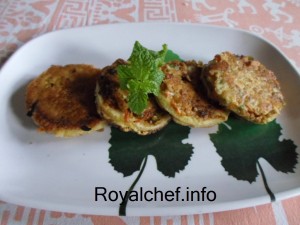 Preparation
Cut Bread in to thin slices and then cut them to prepare round shapes, about 3 inch round circles. For doing this, you can press the bread with a round Katori. The edges of the bread do not have to be taken.
Boil the Vegetables until they are cooked and then drain away excess Water and keep aside.
Add the Boneless Chicken, Ajinomoto, Soya Sauce and Chili Sauce to the Vegetables and mix them nicely.
Then put the prepared mixture over all the round bread shapes and press it a little with your hand.
Beat the Eggs and add the flour and Salt according to your taste to prepare a batter by adding water as required. The batter should not be thin.
Then dip the Chicken Gold Coins into the batter and deep-fry the Gold Coins until you get a nice golden brown shade.
Serve hot.