This is a simple Recipe for preparing at home tasty Pineapple Thandai or Ananas Ki Thandai in the Hindi language, a pineapple juice prepared by me, which is popular all over India. A delicious, soothing and healthy pineapple juice preparation, prepared by me especially for the summer season.
The Marathi language version of the same Thandai recipe can be seen here – Ananas Thandai
Preparation Time: 20 Minutes
Serves: 6 Glasses
Ingredients
One Cup Pineapple pieces
2 Cup Pineapple Juice
15 Almonds
2 Tablespoon Poppy Seeds
5 Tablespoon Sugar
Preparation
Soak the Almonds and Poppy Seeds separately for 8-10 hours. Peal the Almonds, prepare a fine paste of Poppy Seeds and 10 Almonds, add appromixately 4-5 glass of Water, and mix it well. Cut the remaining Almonds and keep them aside.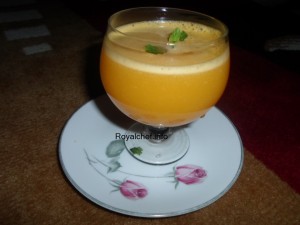 Add the Pineapple Juice and Sugar into the Almond-Poppy Seeds mixture and mix it well.
While serving add Pineapple pieces and Ice cubes.