This is a Recipe for Fresh Mango Lassi, a special Mango flavored Lassi, a Mango season special. Not only tastes delicious, but is nutritious as well. The preparation is easy once you have the Mango Pulp ready.
Also included below is the Marathi version of the Mango Lassi recipe called Amba Lassi in Marathi.
Preparation Time: 10 Minutes
Serves: 2 Persons
Ingredients
1 Cup Yogurt (dahi) (not sour)
¼ Cup Milk
½ Cup Mango Pulp
1 Teaspoon Sugar
1 Tablespoon Mango Pieces
Preparation
Mix the Yogurt, Milk, Mango Pulp, Sugar and blend for a minute and keep into the refrigerator for chilling. Garnish with Mango Pieces and serve chilled.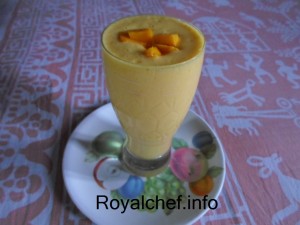 आंबा लस्सी :
लस्सी म्हंटले की आपल्या डोळ्यासमोर छान मलई युक्त घट्ट दही घुसळलेले येते. पण आपण त्यामध्ये आंब्याचा रस जर मिक्स केला तर वेगळीच मज्जा येईल. आंब्याची लस्सी ही चवीला अप्रतीम लागते. नक्की करून बघा.
साहित्य :
१ कप दही (आंबट नको)
१/४ कप दुध
१/२ कप आंबा रस
१ टी स्पून साखर
१ टे स्पून आंब्याचे फोडी (सजावटीसाठी)
कृती :
दही, दुध, आंब्याचा रस, साखर हे सर्व मिक्सरमधून काढून फ्रीजमध्ये थंड करायला ठेवा. सर्व्ह करतांना थंड सर्व्ह करा व वरतून आंब्याच्या फोडी ने सजवा.