The Mughlai Anda or Egg Paratha is a spicy Paratha prepared combining an Omelette like egg filing with the Chapatti. This is a wholesome egg preparation suitable for most meals, including the Lunch Boxes of children and adults.
This simple and easy to follow recipe makes it easy to prepare at home crisp and tasty Restaurant or Dabha Style Mughlai Anda Parathas at home.
Preparation Time- 20 Minutes
Serves- 2 Persons
Ingredients
For the Filling
2 Eggs
1 Small Onion (chopped)
2 Green Chilies (chopped)
2 Tablespoon Coriander (chopped)
¼ Teaspoon Red Chili Powder
Salt as per taste
For the Paratha
2 Cup Refined Flour (maida)
Salt as per taste
1 Tablespoon Oil
Oil or Ghee for frying the Parathas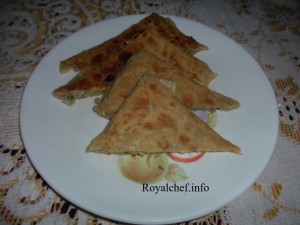 Preparation
Mix the Refined Flour, Salt, and Oil, prepare Dough, and keep it aside. Then prepare two equal balls from the Dough.
Break the Eggs, add the Onion, Green Chilies, Coriander, Red Chili Powder, and Salt, and mix it well.
Roll the Dough ball, as you do for a big size Chapatti, pour the half portion of the Egg mixture in the Centre, then fold the Chapatti from four sides, and give a square shape.
Heat the Tawa, apply a teaspoon Ghee over the Tawa, and fry the Egg Paratha with Ghee from both sides until color changes into light brown.
Serve hot with Tomato Sauce or Pickle.
The Marathi language version of the Spicy Mughlai Anda Paratha is published in this – Article