This is a Recipe for preparing at home Ras-Ghavan or God Naralachya Rasatle Ghavan (गोड नारळाच्या रसातले  घावन). This is an authentic and traditional sweet dish from the Konkan region of Maharashtra, which is normally prepared on festive or religious occasions as part of the main course meals.
The Marathi language version of this Ghavan recipe can be seen here – Ras Ghavan Recipe
Ras Ghavan Preparation Time: 60 Minutes
Serves: 8 Ras Ghavan
Ingredients
For the Ras
 3 Cups Coconut Milk
1 Table spoon Jaggery
1 Table spoon Sugar
1 Tea spoon Cardamom Powder
For The Ghavan
2 Cups Ambemohar Rice Flour (तांदळाचे पीठ)
1 ½ Cup Water
1 Tea spoon Refined Flour (Maida)
Salt as per taste
Oil for frying the Ghavan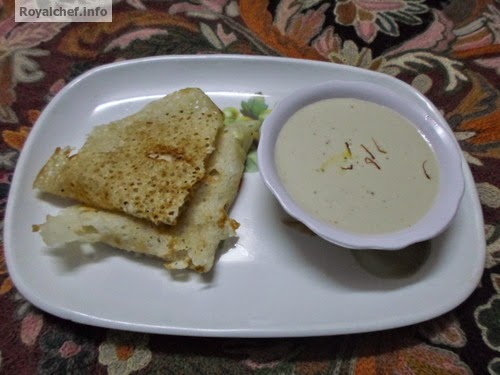 Preparation
 For the Ras – Mix the Coconut Milk, Jaggery, Sugar and Cardamom Powder and keep it aside.
For the Batter- Mix the Rice Flour, Refined Flour , Salt and Water.
Heat the frying pan and add a tea spoon Oil and then pour one-fourth cup batter over the frying pan and spread the batter. Then add Oil around the Ghavan. Cover with a plate for two-three minutes and turn the Ghavan over for a minute.  Remove the Ghavan from the flame and fold it. Prepare all the Ghavans in the same way and keep them aside.
Before serving pour the Coconut Milk in a bowl and dip the Ghavan in the Coconut Milk and then serve.