This is a Recipe for making at home a Maharashtrian Capsicum vegetable preparation for the main course in the traditional Maharashtrian Style of cooking , using the Simla Mirchi and Besan as the main ingredients.
Simla Mirchi chi Bhaji Preparation Time: 15 MInutes
Serves: 2 Persons
Ingredients
2 Cup Capsicum (chopped)
1 ½  Table spoon Gram Dal Aata (Besan)
2 Table spoon Coriander (chopped)
1 Table spoon Coconut shredded
Salt to taste
For Tadka
½ Table spoon Oil
¼ Tea spoon Asafoetida
¼ Tea spoon Turmeric powder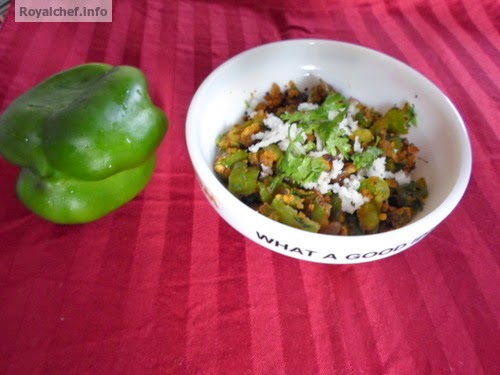 Preparation
Wash and then chop the Capsicum and keep it aside.Heat the Oil in a Kadhai and then add the Asafoetida and Turmeric then add the Capsicum and 2 table spoon of the Water and cover with a stain less steel plate for 2 minutes and then remove the plate and then add the Besan. Mix it well and cook for 2-3 minutes on  a slow flame.While serving garnish with Coriander and Coconut. Serve hot with Chapati.
The Marathi language video of this Besan Perun Shimla Mirchi Bhaji recipe can be seen on our YouTube Channel – https://www.youtube.com/watch?v=z4nsrmq2Ntw