This is a Recipe for preparing at home Masala Idli. This is the famous South Indian Masala Idli, simplified and given in a step by step manner, made easy for the new homemaker.
South Indian Masala Idli Preparation Time: 60 Minutes
Serves: 36 Masala Idlis
Ingredients
For Idli Batter
 2 Cup thick Rice or (boiled rice)
1 Cup Black Gram
For Mixing
2 Table spoon Gram Dal (soak in the Water for 2-3 hours)
1 Table spoon Black Gram Dal (soak in the water for 2-3 hours)
4-5 Green Chilies
½" Ginger
½ Cup Carrot and Beans (cut in small pieces)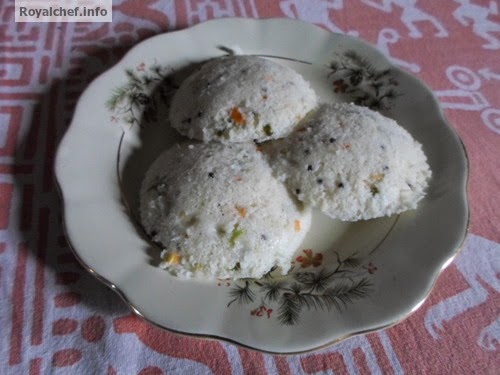 For Tadka
2 Table spoon Oil
1 Tea spoon Mustard seeds
¼ Tea spoon Asafoetida
8-10 Curry Leaves
Salt to taste
Oil for Idli
Preparation
Soak the Rice and the Black Gram Dal separately for  8-10 hours. Grind in the mixer. Mix it well and keep it aside for 8-10 hours.
Heat the Oil, prepare Tadka, and keep it aside for the cooling.
Cut the Vegetables, grind the Green Chilies, chop the Ginger.
Mix the Vegetables, Gram Dal, Black Gram Dal, Green Chilies, Ginger, Tadka and Salt in the Idli batter.
Steam in Idli stands, according to manufacturer's directions. For this type of Idlis there is no need for the Chutney or the Samber.