This is a Recipe for preparing at home Mithai Shop Style Lavang Latika . This is a famous sweet dish of the Bengali Community and is prepared during festive occasions.
Preparation Time: 60 Minutes
Serves: 15 Nos
Ingredients
¼ Kg Maida
36 Sticks Cloves [Laung]
¼ Kg Ghee
¼ Kg Khoya [whole dried milk]
2 Table spoon Suji
¼ Kg Sugar
1 Pinch Cooking Soda
4 Pieces Green Elachai [Green Cardamom] grounded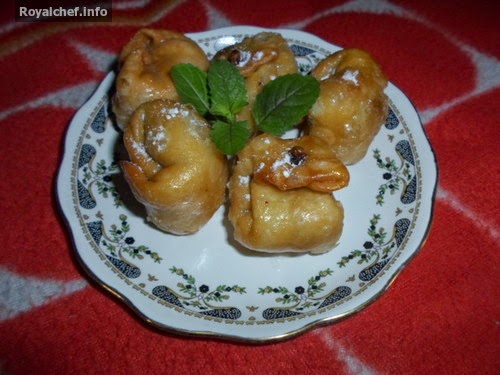 Preparation
First take the Maida, Cooking Soda, 1 table spoon Sugar and hot 2 table spoon ghee and put it in to Maida. Then mix it nicely and add some hot water and prepare dough (it should be thick)
Fry the Suji in Kadhai and add the Khoya and 2 table spoon Sugar and mix it nicely and fry for 2-3 minutes and keep aside.
Prepare sugar thick syrup by boiling the remaining sugar and 2 cups of water.
Then prepare small round Puri and then add 1 table spoon Khoya mixture to the Puri and then fold it nicely and punch the Lavang in to it.
Heat the Ghee in the Khadai and deep fry the Puri till colour change in to pink.
Than put it in the Sugar thick syrup for 10-15 minutes and then serve.
The English language version of the Lavang Latika recipe is seen in the article – Here