This is a Recipe for making at home tasty and decorative Cucumber Cup Salad, This Kakdi Ka Cup Salad or Stuffed Cucumber Cups Salad is not only tasty, delicious and appetizing but it can be a great add-on to the main course, which is suitable for all kinds of parties.
This recipe, which does not take much time or effort will enable you easily make this Stuffed Cucumber Cups Salad at home.
The Marathi language version of the same Salad recipe can be seen here – Delicious Cucumber Cups Salad
Preparation Time: 20 Minutes
Serves: 12 Nos
Ingredients
3 Big Size Fresh Cucumbers
1 Small Red Carrot
½ Cup Cabbage (shredded)
¼ Cup Sweet Corn Niblets (boiled)
¼ Tomato (chopped)
2 Tablespoon Onion (chopped)
½ Cup Pomegranate Seeds
½ Teaspoon Cumin Seeds Powder
Lemon Juice, Sugar and Salt as per taste
½ Cup Curd or Mayonnaise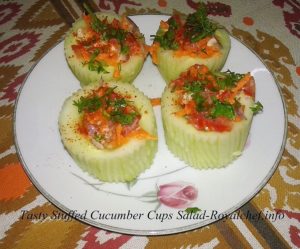 Preparation
First of all Wash the Cucumbers and peal and cut it into 3" sizes and scope out the center portion of the Cucumbers and make it look like cup like shapes and then keep them aside.
Shred the Carrot and Cabbage. Chop the Onion. Remove the seeds from Tomato and chop it. Dry roast the Cumin Seeds and then powder them.
In a big sized bowl add all the Ingredients and mix them well. Fill the Cucumber cups with this mixture.
Garnish with Coriander leaves and Red Chili Powder and keep them in the refrigerator for cooling.
Serve cool.