This is a Recipe for making at home crispy and delicious typical restaurant or dhaba style Chicken Keema Kebabs with Dry Fruit Stuffing. This Kebab, called in Hindi as the Chicken Keema Kebab with Sukha Meva filling is a great non-veg starters snack for any kind of party, including cocktail and kitty parties, it can also make a welcome add-on to the main course.
The Marathi language version of the same Mughlai Kebab recipe can be seen here – Chicken Keema-Dry Fruits Kabab
Preparation Time: 60 Minutes
Serves: 15 Kebab
For the Covering:
500 Gram Chicken Kebab
1 Tablespoon Ghee
1" Ginger piece
10-12 Garlic Petals
1 Medium size Onion (chopped)
2 Green Chilies
1 Egg
1 Bread Slice
1 Teaspoon Ga ram Masala
1 Teaspoon Red Chili Powder
2 Tablespoon Fresh Cream
¼ Cup Coriander (chopped)
Salt as per taste
Ghee for frying the Kebab
For the Filling:
5-6 Almonds (crushed)
4-5 Walnuts (crushed)
7-8 Cashew nuts (crushed)
4-5 Pisa (crushed)
1 Tablespoon Chironji (crushed)
1 Tablespoon Butter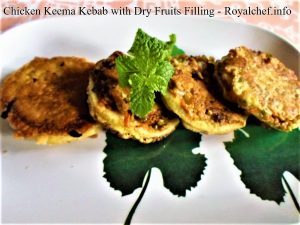 Preparation
Chop the Onion and Coriander (leaves), grind the Ginger-Garlic-Green Chili, apply the fresh Cream over the Bread slice. Wash the Chicken Kheema and drain the Water. Beat the Egg.
Heat the Ghee in a Kadai and add the Onion and grounded Ginger-Garlic-Green Chili Masala and saute for 2-3 minutes on a slow flame. Then add the Red Chili Powder, Garam Masala, Chicken Kheema, Salt, mix it well and cook 10 minutes on a slow flame with out Water. Then it keep it aside for cooling.
After cooling the Keema, grind it in the mixer and then add the Bread slice, chopped Coriander, and beaten Egg and prepare a Dough. Then prepare 15 equal balls from the Dough.
For the Filling: Mix the crushed dry fruits and Butter and prepare a mixture.
For the Kebab: Take one ball and pat it on the palm like a small Puri and then insert a tablespoon of the stuffing  inside it and close the Puri nicely. Prepare all Kebab in a same procedure.
Heat the Ghee in a Kadai and deep fry the Kebab until the color changes into brown and the Kababs turn crispy.
While serving insert a tooth-pic into the Kebab and serve with Sauce or Chutney.