This is a Recipe for making at home healthy and nourishing Karela or Bitter gourd soup. This easy to make soup prepared using the Bitter gourd or Bitter Melon as the main ingredients contain all the healing properties of the Bitter gourd and is useful for people suffering skin diseases, acne and infections, hair related problems, breathing disorders, constipation and those striving for weight-loss.
The Marathi language version of the same soup recipe can be seen here – Karlyache Soup
Preparation Time: 30 Minutes
Serves: 2 Persons
Ingredients
4 Medium size Bitter gourd
Salt as per taste
Sugar as per taste
1 Tablespoon Coriander leaves (chopped)
1 Teaspoon Black Pepper (crushed)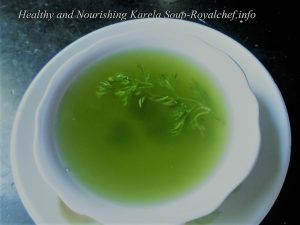 Preparation
Wash the Bitter gourd and cut it into thin slices.
In a vessel add 2 cups of Water and the Bitter gourd pieces.
Then boil them for 10-15 minutes on a slow flame.
After boiling the Bitter gourd, pour it into another vessel with a strainer in order to remove the pulp and separate the Bitter gourd water.
Then add the crushed Black Pepper, Salt, Sugar, chopped Coriander leaves to the separated Bitter gourd water and then serve hot.