This is a Recipe for making at home tasty and delicious Baked Cheese Corn in White Sauce. This is a stand-alone dish, which can be served with bread for breakfast or even as a part of the main course meals.
The Marathi language version of the same dish can be seen here – Baked Cheese Corn
Preparation Time: 20 Minutes
Baking Time: 15 Minutes
Serves: 4 Persons
Ingredients
2 Cups Sweet Corn Niblets (boiled)
1 Cheese Cube
1 Teaspoon Black Pepper (crushed)
Salt as per taste
1 Table spoon Butter
3 Cups White Sauce
(For the White Sauce 2 Tablespoon Butter, 2 Cups Milk, 2 Tablespoon Refined Flour, 1 Cheese Cube, 1 Teaspoon Black Pepper (crushed), Salt as per taste)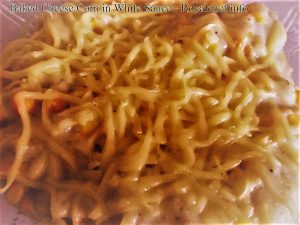 Preparation
For the White Sauce: Melt the Butter in a Kadai and add the Refined Flour, saute for 2 minutes on a slow flame.
Then add the Milk slowly into the Refined flour, mix it well and keep stirring continuously, while adding the Milk.
When the mixture will become thick add the Salt and shredded Cheese.
Mix it well and then add the boiled Sweet Corn Niblets, Salt, Black Pepper.
Apply the Butter over the baking tray and pour the mixture into the tray.
Garnish with shredded Cheese.
Preheat the Microwave Oven and insert the baking tray and set the Microwave temperature up to 180 degree to 240 degree and bake it for 10-15 minutes or until the Cheese color changes into light brown.
Serve hot .