This is a Recipe for making at home typical Restaurant or Dhaba style Pahadi Chicken or Murgh with a smokey flavor. This is main course thick Chicken Gravy, which is prepared using a freshly prepared Green Masala.
The Marathi language version of the same Chicken recipe can be seen here – Pahari Chicken
Preparation Time: 45 Minutes
Serves: 4-5 Persons
Ingredients
1 Kg Chicken
½ Cup Curd
1 Tablespoon Ginger-Garlic Paste
6-7 Green Chilies
1 Teaspoon Garam Masala
1 Teaspoon Black Salt
1 Cup Spinach Paste
1 Cup Suva (Shepuchi Bhaji)
Salt as per taste
1 Cup Coriander Leaves (chopped)
1 Cup Mint (Pudina)
1 Teaspoon Cumin Seeds (powdered)
2 Tablespoon Oil
1 Tablespoon Chat Masala
1 Tablespoon Amul Butter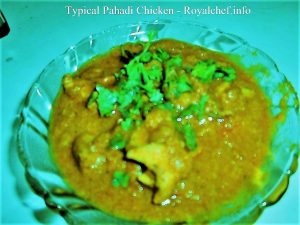 Preparation
Wash the Spinach Leaves, boil and grind to a paste in a mixer.
Wash the Suva, Coriander, Mint Leaves and chop them.
Wash the Chicken pieces and apply the Curd and keep them aside for 15-20 minutes.
Then add the Spinach Paste, chopped Suva, Coriander, Mint, Green Chilies, Ginger-Garlic Paste, Black Salt, Salt, Cumin Seeds Powder, Oil and mix it well.
Heat the Kadai and add the Chicken and cover the Kadai with a plate and cook the Chicken.
After cooking the Chicken you can add a burning piece of coal and put it in a steel Katora, add a few drops of Oil and One-Fourth Teaspoon Garam Masala on it and keep it inside the Kadai for about 2-3 minutes, the Kadai should be covered. This is to give the Pahadi Chicken a Smokey Flavor.
Serve hot with Chapatti or Paratha. Before serving add the Chat Masala and Amul Butter.