This is a Recipe for making at home sweet and delicious Continental Style Khajur or Dates Pudding. This is a tasty dessert preparation, which is also suitable for any kind of party.
Preparation Time: 45 Minutes
Serves: 4 Persons
Ingredients
1 Cup Dates (without seeds)
3 Cups Milk
3 Eggs
3 Tablespoon Sugar
¾ Cup Fresh Cream
½ Teaspoon Vanilla Essence
1 ½ Tablespoon Butter
6 Walnuts (coarse pieces)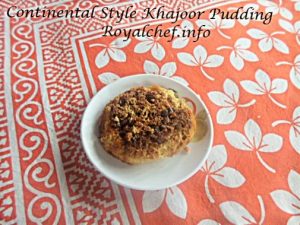 Preparation
Wash the Khajoor and remove the seeds and then cut into small pieces.
Mix the Khajoor pieces with the Milk and Sugar and boil the Milk until the Sugar is dissolved.
Then keep the Milk aside for cooling.
Beat the Eggs.
Mix the Milk, Eggs, Dates pieces, Butter, Vanilla Essence, Walnut pieces and pour the mixture into a container.
Heat the Oven and insert the container into the oven and bake for 30 minutes.
After the container cools down, demould the Pudding into a serving plate.
Garnish with Fresh Cream and Walnut Pieces.