This is a Recipe for Nachani Pohe Ladoo or Ragi ke Ladoo as this Ladoo is called in Hindi. This Ladoo prepared using finger millet flour is rich in Calcium and Proteins is healthy and nutritious and is not only tasty but good for health. The Ragi Ke Ladoo can be given to those people who are recovering from illness, those suffering from chronic weakness, diabetics, and also pregnant women.
In this recipe, I have used Pohe along with Ragi flour so as to make the Nachni Ladoo more digestible. They can also be given to growing children to enhance their all round health and growth.
The Marathi language version of the Ragi Ke Ladoo recipe and its preparation method can be seen here – Nachani Ladoo
Preparation Time: 45 Minutes
Serves: 15 Ladoo
Ingredients
2 Cups Nachni Flour
¾ Cup Rice Fla ks (Poha)
½ Cup Dry Coconut (grated)
1 ¼ Cup Sugar Powdered
¾ Cup Ghee
¼ Cup Milk
¼ Cup Cashew nuts and Almonds (crushed)
1 Teaspoon Cardamom Powder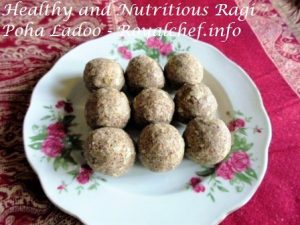 Preparation
Shred the Dry Coconut and roast them until the color changes into light brown.
Roast the Poha slightly and then crush it
Slightly grind the Cashew nut and Almond to make a coarse powder.
Heat the Ghee in a Kadai and add the Nachani Flour, mix it well and roast it for 10 minutes on a slow flame.
Then slowly add the warm Milk and keep stirring it for 2-3 minutes on a slow flame. Then remove it from the flame.
Then mix the Nachani Flour, Dry Coconut, Poha, Dry Fruits, Sugar Powdered, Cardamom Powder and prepare medium size Ladoos.
After preparing the Ladoos store them in a container.