This is a simple to follow step-by-step recipe for making at home crispy and crunchy Schezwan Sev. This is a uncommon Chinese Sev variation experimented by me using the popular Schezwan Sauce to give a Chinese flavor to the Sev.
This Schezwan Sev can not only be a great snack to have in the house but it can give your Diwali Faral Plate that added variety.
The Marathi language version of the Chinese flavored Schezwan Sev recipe and its preparation method can be seen here- Tasty Schezwan Sev
Preparation Time: 60 Minutes
Serves: 8 to 10 Persons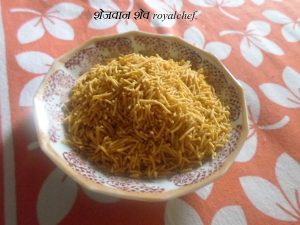 Ingredients:
4 Cups Gram Flour[ Besan]
¼ Cup Hot Oil
4 Tablespoons Schezwan Sauce
Salt as per taste and requirement[ only a little bit is recommended because Schezwan Sauce contains Salt]
Oil for frying the Schezwan Sev
Preparation:
First of all using a fine strainer, strain the Besan and Salt.
Then mix the Hot Oil with the Besan.
Then add water as per requirement and knead the Beasn to prepare the Schezwan Sev Dough.
Heat the Oil in a Kadai.
Add the Schezwan Sev Dough in a Sev Making Machine, use Small/Fine Sev Mold.
Add the Sev directly into the Hot Oil, prepare roundish shapes of the Sev.
While adding the Sev, the flame should be set to high and after adding the Sev, it should be reset to low.
Remove from the fire, when the Sev starts appearing crispy and crunchy and keep it on paper so that the excess Oil is drained away.
Finally, put the Sev in a plastic bag and store it in an airtight container.