This is Simple Recipe to make Matha at home. Matha or Mattha is a buttermilk preparation normally made by adding  spices or some or the other Masala to buttermilk. This basic recipe tells you how to make basic Tak or buttermilk for Mattha.
Mattha is a common feature in most Maharashtrian Wedding Meals. This basic Mattha is a soothing drink for sick persons as is easily digestible as the heavy curd part is separated. I have given two methods of preparing the buttermilk for the Mattha.
To make spicy or Masla Mattha you can add spices or Masala as per your taste.
The Marathi language version of this Mattha recipe can be seen here- Homemade Maharashtrian Mattha
Basic Mattha
Preparation Time: 20 Minutes
Serves: 2 Persons
Ingredients
500 Millimeters Fresh Milk
Lemon Juice of ½ a Lemon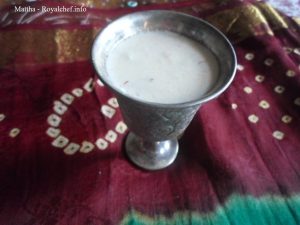 Preparation
Warm the Milk in a Utensil so that it become lukewarm.
Add the lemon juice and stir.
Keep it in a warm place for approximately 15 minutes until the curd is formed and the buttermilk is quite clear.
After it cools down break up the curds and strain to clear the Mattha.
Lemon Mattha
Preparation Time: 15 Minutes
Serves: 1 Person
One Glass Full Milk
One Tablespoon- Lemon Juice
Sugar if required
Preparation
Put the Milk into a small clean vessel, add Sugar if needed and let it boil.
Add the Lemon Juice and heat the Milk until it curdles.
Keep a Muslin cloth over a glass and strain the contents of the vessel.
This separates the curd part, which is the heaviest part of the Milk and separates the buttermilk.