This is a Recipe for making at home crispy and delicious Rice – Lentil Roll Pakore or Chawal-Masoor Ke Pakode. This Pakore recipe makes the use of Masoor Dal, Cooked Rice and Potatoes as the main ingredients to prepare a tasty snack, starters dish or an add-on to the main course meals.
The Marathi language version of this Pakoda recipe and preparation method can be seen here- Rice Roll Pakode
Preparation Time: 30 Minutes
Serves: 4 Persons
Ingredients
2 Cup Rice (cooked)
1 Cup Lentil (Masur Dal)
2 Medium size Potatoes
3 Green Chilies
½" Ginger Piece
2 Bread Slice
1 Teaspoon Lemon Juice
¼ Cup Coriander (chopped)
Salt as per taste
Oil for frying the Rice Rolls Pakode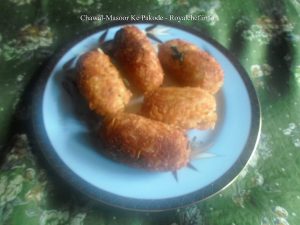 Preparation
Boil the Potatoes, peel them and shred them, mash the Green Chilies and Ginger, prepare Bread Crumbs, chop the Coriander leaves.
In a Pressure Cooker cook the Rice and Lentil separately.
Mix the cooked Rice, Lentil, mashed Potatoes, green Chilies-Ginger, Bread Crumbs, Lemon Juice, chopped Coriander leaves, Salt and prepare a Dough. Prepare 12 medium sized Pakode Rolls from the Dough.
Heat the Oil in a Kadai and deep fry the Pakode Rolls till they become light brown or crispy.
Serve hot with Tomato Sauce or Green Chutney.