This is a Recipe for making at home crisp and tasty Carrot Pakoda or Gajar Ke Pakode as this Pakora is called in the Hindi language. This easy to prepare Pakora using fresh carrots as the main ingredient are crispy and delicious and can serve as a useful add-on to the main course meals or as a standalone snack.
The Marathi language version of this Carrot Pakoda recipe preparation method can be seen here- Carrot Pakoras
Preparation Time: 30 Minutes
Serves: 4 Persons
Ingredients
5 Big size Red or Orange Carrots
2 Cup Gram Dal
1 Lemon
½ Cup Coriander Leaves (chopped)
1" Ginger
6-7 garlic Petals
6 Green Chilies
1 ½ Teaspoon Red Chili Powder
2 Tablespoon Oil (hot)
Salt as per taste
Oil for frying the Pakora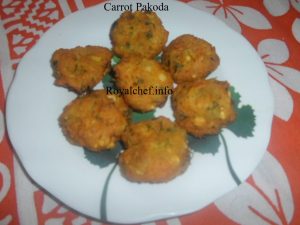 Preparation
Soak the Gram Dal for 3-4 hours and then drain the Water and grind it into a thick paste.
Wash the Carrots and shred them.
Coarsely grind the Ginger-Garlic-Green Chilies.
Mix the grounded Gram Dal, shredded Carrot, Ginger-Garlic-Green Chili paste, Coriander, Lemon Juice, Red Chili Powder, Salt and hot Oil.
Heat the Oil in a Kadai and drop small balls of the mixture into the hot Oil and deep fry the Pakodas until the color changes into light brown.
Serve hot with Green Chutney or Tomato Sauce.