This is an easy to follow step-by-step Recipe for making at home tasty and delicious Indian Style Cheese Chicken Rolls with Green Chutney. This can be a main course or a filling Chicken Snack for breakfast, which is also popularly called as Chicken Frankie or Chicken Kathi Roll.
This is basically a dish of small Chicken Pieces cooked and flavored with Garam Masala and Cheese and wrapped in Chapattis lined with Green Chutney and Beaten Eggs.
The Marathi language version of this chicken rolls recipe preparation method can be seen here- Chicken Rolls
Preparation Time: 45 Minutes
Serves: 4 Persons
Ingredients
For the Filling
8 Chicken Pieces (large)
¼ Cup Mint Leaves (chopped)
1 Teaspoon Lemon Juice
1 Cheese Cube (shredded)
For the Masala
1 Tablespoon Ginger (paste)
1 Tablespoon Garlic (paste)
4 Green Chilies (chopped)
1 Teaspoon Red Chili Powder
1 Teaspoon Garam Masala
¼ Teaspoon Turmeric Powder
For the Covering
2 Cups Wheat Flour
1 Tablespoon Oil
Salt as per taste
2 Eggs (beaten)
For the Green Chutney
½ Cup Coriander
½ Cup Coconut (shredded)
2 Green Chilies
7-8 Garlic Petals
1 Teaspoon Lemon Juice
1 Teaspoon Sugar
Salt as per taste
For the Garnishing
1 Onion (large)
1 Tomato (large)
Salt as per taste
½ Teaspoon Black Pepper Powder
Oil for frying the Chicken Rolls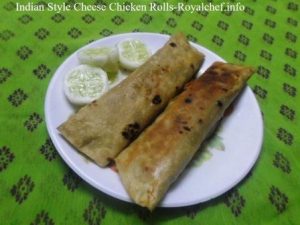 Preparation
For the Covering: Mix the Wheat Flour, Salt, Oil and some Water to prepare a Dough. Then divide the Dough into eight equal balls.
For the Green Chutney: In a Mixture Jar add the Coriander, Coconut, Green Chilies, Garlic, Lemon Juice, Salt, 2 tablespoon Water and grind to prepare the Green Chutney.
Chop the Onion and Tomatoes. Shred the Cheese Cube.
For the Filling: Wash the Chicken pieces and keep them aside. In a kadai add a cup Water and the Chicken pieces and cook them for 8-10 minutes on a slow flame. Then remove the bones and cut into small pieces.
In a kadai add a tablespoon of Oil, Ginger-Garlic Paste, Green Chilies, Red Chili Powder, Turmeric Powder, Garam Masala, Chicken pieces, Salt and fry them for 5-7 minutes on a slow flame. Then add the Lemon Juice, Mint Leaves and mix it well. Divide the mixture into eight equal portion.
For preparing the Chicken Rolls: Roll the Dough balls like a chapatti. Heat a non- stick tawa and roast the Chapatti from the both sides. Prepare all the Chapattis and keep them aside.
Take one Chapatti and apply a tablespoon of beaten Egg mixture over the Chapatti on one side and roast the Chapatti slightly. Then apply the Green Chutney over the Chapatti and the spread chopped Onion-Tomatoes, Chicken mixture, Cheese and prepare a Roll.
Heat the non-stick-tawa and apply Oil over the tawa and roast the Chicken Rolls.
Serve hot Chicken-Cheese Rolls with Tomato Sauce.