This is a Recipe for making at home special Maharashtrian Style Batata Vada for Fasting. These Batata Vadas known in the Marathi language as Upavasacha Batata Vada use a mixture of Barnyard Millet and Water Chest Nut flours for preparing the covering of the Batata Vada.
The Marathi language version of the same Batata Vada recipe can seen here- Upavasacha Batata Vada
Preparation Time: 45 Minutes
Serves: 4 Persons
Ingredients
For the Filling:
6 Medium size Potatoes
4 Green Chilies
½" Ginger
1 Teaspoon Lemon Juice
¼ Cup Coriander Leaves (chopped)
Salt and Sugar as per taste
For the Covering:
1 Cup Varai Atta [Barnyard millet flour]
1 Cup Shingada Atta [water chestnuts flour]
1 Teaspoon Red Chili Powder
1 Tablespoon Oil (hot) Salt as per taste
Oil or Ghee for frying the Batata Vada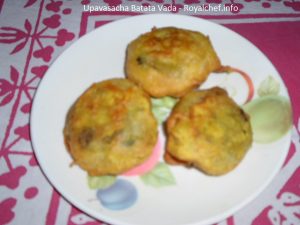 Preparation
Boil the Potatoes, peal and mash them, grind the Green Chili and Ginger.
Mix the mashed Potatoes, grounded Green Chilies, and chopped Coriander leaves, Lemon Juice, Salt and Sugar as per taste.
Prepare 8-10 equal sized balls from the mixture and keep them aside.
Mix the Varai Atta, Shingada Atta, Red Chili Powder, Salt and sufficient Water and prepare a batter having the consistency of a Pakora Batter.
Heat the Oil in a Kadai and dip the Potato balls in the Batter and drop them in to the hot Oil.
Deep fry the Vadas till the color changes into light brown.
Serve hot with Coconut Chutney.