This is a Recipe for preparing at home Restaurant Style Honey Chicken Gravy or Indian Style Shahad Murg as this chicken dish is called in the Hindi language.
The Marathi language version of the preparation method of this chicken recipe can be seen here- Tasty Honey Chicken.
Preparation Time: 50 Minutes
Serve: 4 Persons
Ingredients
For the Marinate
½ Kilogram Chicken Leg Pieces
¼ Cup Ginger Juice
Salt as per taste
For the Gravy
3 Big Size Onion (chopped)
1 Teaspoon Cumin Seeds
1 Teaspoon Coriander Seeds
1" Cinnamon Stick
1 Medium size Onion (chopped)
1 Tablespoon Ginger paste
¼ Cup Tomato Puree
½ Teaspoon Black Pepper Powder
1 Tablespoon Honey
2 Teaspoon Cardamom Powder
Salt as per taste
Oil for frying the Chicken Pieces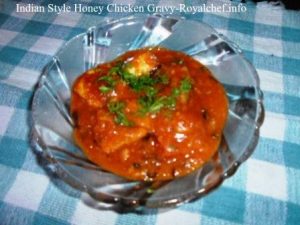 Preparation
Wash Chicken Pieces and marinate the Chicken Pieces for 20 minutes in the Ginger Juice and Salt.
Heat a tablespoon of Oil in a Kadai and fry the marinated Chicken pieces till tender and then keep them aside.
Slightly roast the Cumin Seeds, Coriander Seed and then grind them to a paste.
For the Gravy: Heat the Oil in a kadai, add the chopped Onion and fry till the Onion color changes into light brown, remove from the fire and keep It aside for cooling and then grind into a paste.
Ina frying pan heat two tablespoon Oil and add the Cinnamon stick, chopped Onion, Ginger Paste and fry till the Onion color changes into light brown.
Add the grounded Onion Paste, Cumin-Coriander Paste, Tomato Puree and Black Pepper Powder and cook for five minutes on a slow flame. Add the Salt and ½ cup Water and cook for 3-4 minutes on a slow flame.
Then add the Honey, Cardamom Powder and roasted Chicken pieces, and cook for2-3 minutes on a slow flame.
Serve Honey Chicken with Jeera Rice.