This is a step-by step-Recipe for making at home Mithai Shop Style sweet, tasty a delicious Stuffed Balushahi. Balushahi is a famous India Mithai, which is popular all over India. The Balushahi can also be a part of the annual Diwali Faral.
The Marathi language version of the preparation method of the Balushahi can be seen here- Stuffed Balushahi
Preparation Time: 80 Minutes
Serves: 16 Nos
Ingredients
Two Cups Refined Flour
Half Teaspoon Soda bicarbonate
Six Tablespoon Ghee (hot)
Six Tablespoon Curd (Yoghurt)
For the Sugar Syrup:
Two and half Cups Sugar
One Cup Water
Two Tablespoon Milk
One Teaspoon Cardamom Powder
For the Garnishing:
Half Cup Whole Dried Milk
One Forth Cup Sugar Powder
Six Cashew nuts (cut into slices)
Six Almonds (cut into slices)
Six Pistachio Nuts (cut into slices)
One Forth Teaspoon Cardamom Powder
Ghee for Frying the Balushahi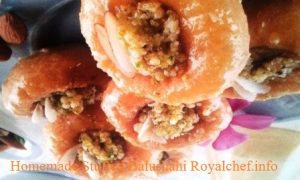 Preparation
Slit the Refined Flour and Soda bicarbonate together into a bowl.
Add the hot Ghee and mix it well. Whisk the Yoghurt and mix it into the Refined Flour and prepare Dough.
Prepare sixteen equal sized balls and make a deep, wide hollow in the center of each ball with your thumb.
Heat the Ghee in a kadai and deep fry the balls on a slow flame until the color changes into the light brown and keep them aside for cooling.
For the Sugar Syrup: Mix the Sugar and One Cup Water and keep it on a slow flame, stir it continuously for five minutes. Then add the Milk and mix it well and cook for five-seven minutes on a slow flame or cook until the thick Syrup.
Add the fried Balushahi into the Sugar Syrup and keep them in the Syrup for two Hours. After two hours remove the Balushahi from the Sugar Syrup and keep them in a flat shaped container for two-three hours.
For the Stuffing or Garnishing: In a kadai place the Whole Dried Milk and fry it for a minute and then add the Powdered Sugar, Dry Fruits and mix it well.
While Serving the Balushahi Garnish with Khoya-Dry Fruit Mixture.