This is a very simple and easy to implement Recipe for making at home sweet, tasty and delicious Recipe for Maharashtrian Ambyacha Dosa or Mango Pan Cake. This is a special snack during the Mango Season, however, when Mangoes are not in season you can use Tinned Mangoes.
The Marathi language version of the preparation method of the Ambyacha Dosa can be seen here- Tasty Mango Pan Cake
Preparation Time: 30 Minutes
Serves: 7-8
Ingredients
½ Cup Mango Juice
1 Cup Wheat Flour
1 Cup Milk
1 Cup Water
4 Tablespoon Sugar
Salt as per taste
¼ Teaspoon Baking Powder
Vanaspati Ghee for Frying Pan Cake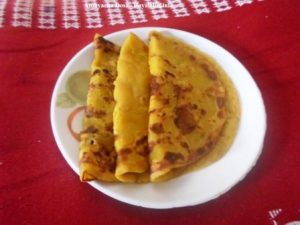 Preparation
Mix the Mango Juice, Sugar, Milk, Wheat Flour, Water, Salt, and Baking Powder nicely.
Heat a non-stick frying pan and apply a teaspoon of Ghee over the pan and pour a ¼ of the mixture over the pan and add a teaspoon Ghee over the pan cake.
Then fry the Pan cake from the both sides by using the Ghee.
Serve hot.