This is a Recipe for preparing at home tasty Paneer Bhurji. The Paneer Bhurji preparation is almost similar to that of the more famous Anda or Egg Bhurji and this preparation for the main course can be called as the vegetarian counterpart of the Anda Bhurji. It also makes a good packed meal dish for Tiffin Boxes.
The preparation method is given in a most simple to understand and step-by –step manner so as to make the preparation of the Paneer Bhurji at home as easy as possible.
The Marathi language version of the same recipe is given here- Paneer Bhurji Recipe in Marathi
Paneer Bhurji Preparation Time: 20 Minutes
Serves: 4 Persons
Ingredients
250 Gram Paneer Home Made (Ref the recipe- How to prepare Paneer at home)
½ Cup Cabbage (chopped)
½ Cup Capsicum (red, yellow, green chopped)
1 Medium size Onion (chopped)
1 Small size Tomato (chopped)
1 Teaspoon Ginger-Garlic Paste (or chopped)
2-3 Green Chilies (chopped)
1 Teaspoon Red Chili Powder
¼ Teaspoon Garam Masala
Salt as per taste
¼ Cup Fresh Green Coriander leaves (chopped)
1 Tablespoon Oil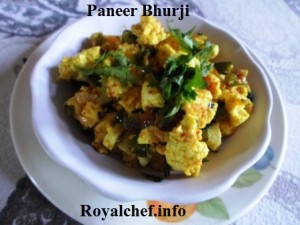 Preparation
Chop the Onion, Tomato, Coriander, and Green Chilies and keep them aside.
Chop the Cabbage, Capsicum, and keep them aside.
Shred or crush the Paneer and keep it aside.
Heat the Oil in a Kadai, add the Onion, Tomato, Ginger-Garlic Paste, Cabbage, Capsicum, and Green Chilies, and mix it well and sauté for 5 minutes on a slow flame.
Then add the Red Chili Powder, Salt and Garam Masala and mix it well and after that add the Paneer and the Coriander and mix it well.
Serve hot with Bread or Chapati.