This is a simple to follow step-by-step Recipe for making at home tasty and delicious Potato-Cheese Soup for children. This Aloo or Batata-Cheese Soup is a most healthy, nutritious and refreshing appetizer especially for children.
The Marathi language version of the same soup preparation method is published here- Cheese-Batata Soup
Preparation time: 30 Minutes
Serves: 4 Persons
Ingredients
4 Big size Potatoes
1 Medium size Onion (chopped)
Salt and Pepper as per taste
2 Cheese Cubes (shredded)
2 Tablespoon Refined Flour (maida)
2 Cups Milk
2 Tablespoon Coriander (chopped)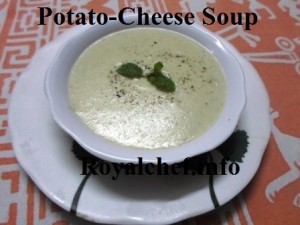 Preparation
Wash and peel and then chop the Potatoes, shred the Cheese, chop the Onion and the Coriander.
In a pressure cooker add two cups Water, chopped Potatoes, Salt and cook them until you get three whistles of the pressure cooker.
Dissolve the Refined Flour into the Milk and keep it aside.
Then grind the Potatoes in a mixer and strain with a strainer and then keep it on a slow flame.
Then pour the dissolved Refined Flour Milk slowly into the Potatoes mixture and keep steering for 7-8 minutes.
While serving add Pepper and Cheese.
Garnish with shredded Cheese and chopped Coriander and serve hot.