This is a simple to follow Recipe for preparing at home authentic Kashmiri Kahwa/Kahwah Tea. Kahwa Tea is a traditional Kashmiri specialty tea preparation using Kashmiri Green Tea Powder along with some Indian spices and dry fruits.
The Kahwa tea is not only aromatic but also good for health, as it is known to regulate the body temperature in the cold climate of Kashmir.
This authentic Kahwa tea preparation method was observed by me during my visit to Kashmir a few years back.
The Marathi language version of the same recipe is published here – Kashmiri Kahwa Tea
Kashmiri Kahwa Tea Preparation Time: 10 Minutes
Serves: 2 Persons
Ingredients:
2 Cups Water
2 Teaspoon Sugar
1 Teaspoon Kashmiri Tea Powder (Green Tea)
4 Green Cardamoms
½" Cinnamon Piece
A Pinch Soda-bi-Carb
A Pinch of Salt
5-6 Saffron Strands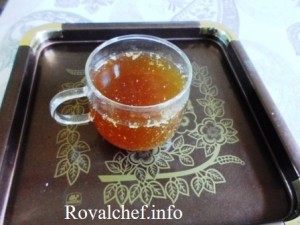 Preparation:
Mix the water, Sugar, Cardamom, Cinnamon, Kashmiri Tea and boil for 3-4 minute on a medium flame.
Then add the Soda-bi-Card, Salt and boil for a minute.
Serve hot. While serving garnish with Saffron and crushed Almonds.