This is a simple and easy to understand Recipe for preparing at home quick or Zatpat Crispy Corn Poha Chivda or Kurkurit Makyachya Pohyacha Chivda as it is called in the Marathi language.
The Corn Chivda is a tasty and crisp snack, which can be given to children in their Tiffin Boxes. The Corn Poha Chivda can also be a part of the Diwali Faral.
Preparation Time- 25 Minutes
Serves- 4-5 Persons
Ingredients
2 Cups Corn Poha
¼ Cup Peanuts
2-Tablespoon Cashew nuts [ Kaju]
Two Table Spoons Badam [ Almonds]
2 Tablespoon Sugar powdered
1 Teaspoon Red Chili Powder
Salt as per taste
Oil for frying Corn Poha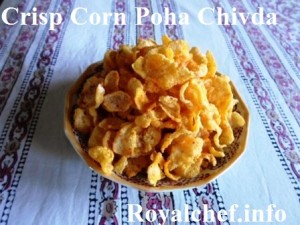 Preparation
Heat the Oil in a Kadai and deep fry the Corn Poha and spread over a News Paper, this to remove the excess Oil, which will be absorbed by the News Paper.
Deep fry the Peanuts and spread them over a News paper.
Deep fry the Cashew nuts and Almonds and spread over a News Paper.
Mix the fried Corn Poha, Peanuts, Almonds and Cashew Nuts.
Add the Red Chili Powder, Salt and Powder Sugar and mix it well.
After preparing, keep the Crispy Corn Poha in a tight container.
The Marathi language version of the Corn Poha Chivda is published in this – Article