This is a Recipe for preparing at home rich and delicious Indian Style Mushroom Stuffed Egg Omelette. The preparation method has been given in a simple to follow step-by-step manner to make the preparation as easy as possible.
The Tasty Mushroom Stuffed Anda Omlette can be a welcome change for breakfast, especially on Sundays or on a holiday for the kids.
The Marathi language version can be seen here – Mushroom Anda Omelette
Mushroom Stuffed Egg Omelette Preparation Time: 30 minutes
Serves: 2 Persons
Ingredients
For the stuffing
2 Cups Mushroom (cut into thin slices]
1 Big size Onion (finely chopped)
2 Teaspoon Soya Sauce
1 Teaspoon Black Pepper Powder
1 Tablespoon Oil
Salt as per taste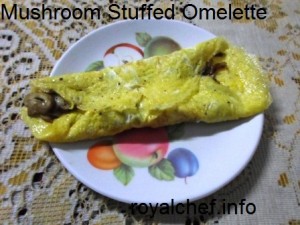 For the Covering
4 Eggs
Salt as per taste
1 Tablespoon Oil
For the Garnishing
Black Pepper Powder for sprinkling upon the Stuffed Mushroom Egg Omelette
Preparation
For the Stuffing
Wash the Mushroom the finely cut Mushroom Slices and keep aside.
Heat the Oil in a frying pan and add the finely Sliced Onion and sauté for two minute until it changes its color into golden yellow color.
Then add the Mushroom Slices and fry for two minutes and then add the Salt, Black Pepper, Soya Sauce and sauté for 2 minutes on a slow flame.
First, Break the two Eggs in a bowl and then add the Salt and beat them nicely with the help of a fork.
Heat the non-stick pan and apply some Oil over the pan and then pour the Eggs mixture over the pan and spread it evenly.
Turn the Omelette over, spread half portion of the Mushroom mixture over the Omelette, and fold it from both the sides nicely.
The second Stuffed Mushroom Omelette can also be prepared in the same procedure mentioned above.
Garnish with the Black Pepper Powder.
Serve hot with Bread or Chapatti.