This is a Recipe for Mangoful, a most simple and easy to make juice of Mango Pulp during the Mango season. Takes very little time to prepare, once you have all the ingredients in place.
Preparation Time: 10 Minutes
Serves: 2 Persons
Ingredients
2 Cup Milk
¾ Cup Mango Pulp
Sugar as per taste
2 Tablespoon Cream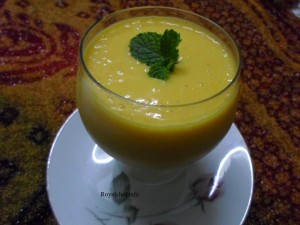 Preparation
Mix the Milk and Sugar and boil them and keep it aside for cooling. Then mix the Milk, Mango Pulp and Cream and grind it for a minute.