This is a Recipe for making at home tasty and delicious Maharashtrian Style Onion-Mint Topped Naan. This is a special Paratha having the combined flavor of onion and mint. A wholesome and filling dish for breakfast or even the main course meal, which can also be given in the tiffin-boxes of school going children.
The Marathi language of this Naan recipe can be seen here – Naan with Kanda and Pudina Toppings
Preparation Tine: 30 Minutes
Serves: 4 Paratha/Naan
Ingredients
For the Naan
1 Cup Wheat Flour
½ Cup Refined Flour
1 Teaspoon Sugar
1 Tablespoon Curd
A Pinch Soda-bi-carb
Milk and Water (as per required for preparing a Dough)
Salt as per taste
½ Tablespoon Oil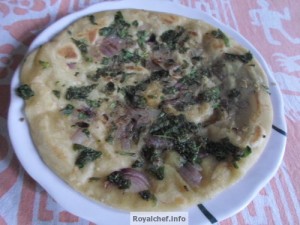 For the Topping
One Big Size Onion (chopped)
½ Cup Mint Leaves (chopped)
Oil or Ghee for Naan Frying
Butter for Garnishing
Preparation
Mix the Wheat Flour, Refined Flour and Salt. Add the Curd and Soda-bi-carb. (When you will add Curd and Soda-bi Carb the Curd will become floppy). Then add some Water and Milk and prepare Dough, add Oil to it to make it softer and then keep it aside for half an hour.
Then prepare four equal balls. Roll them into long round cylindrical shapes, then circle the cylindrical shapes to make a circle and the roll them to prepare thick Puri Sized Shapes [This procedure adds layers to the finally prepared Paratha].
Then spread the chopped Onion and chopped Mint over the Puri Shapes and roll them carefully to prepare thick Parathas.
Heat the Tawa, apply ¼-tea spoon Oil over the Tawa, and then spread the Paratha over the Tawa. Fry the Paratha by using the Oil until the color changes in to golden yellow on a slow flame.
Serve hot with butter.