This is a Recipe for preparing delicious and tasty Corn-Mutter fried Rice or Makai Matar Fried Rice in Hindi, which is a main course rice dish, using corn nuggets and Green Peas, prepared in the Maharashtrian style of traditional cooking.
Ingredients
For Rice
1 Cup Rice
1 ½ Cup Water
1 Tea spoon Ghee
½ Cup Sweet Corn Nuggets  (cook for 2-3 minutes)
¼ Cup Green Peas (cook for 2-3 minutes)
1 Onion (finely chopped)
2 Green Chilies (Chopped)
¼ Tea spoon Black Pepper powder
¼ Tea spoon Cinnamon  powder
1/2 Tea spoon Ginger paste
Salt to taste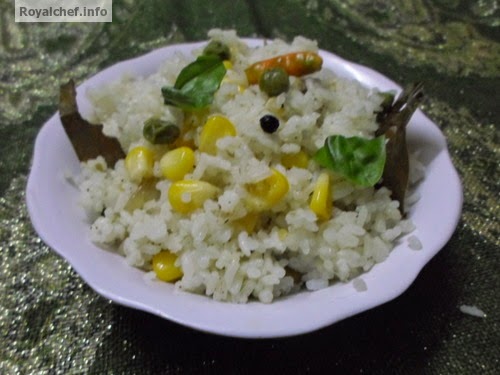 For  Tadka
1 Table spoon Oil
1 Tea spoon Caraway Seeds (Sahajeera)
2 Bay leaf
4-5 Black Pepper Corn
Preparation
Heat the Water in a Vessel and then add Ghee, Salt and Rice. Cook the Rice for 10 minutes and then keep it for cooling.
Heat the Oil in a frying pan and then add the Caraway seeds, Bay leaf and Pepper Corn, Onion  and then fry for 2 minutes. Add the Corn nuggets , Green Peas, Cinnamon powder, Pepper powder and Green Chillies and a little bit of Salt and then fry for 2-3 minutes.
Then add cooked Rice. Mix it well and cover with a lid and cook for 2-3 minutes on slow flame.
Serve hot.